Thanks to our supporters for another year of outstanding results!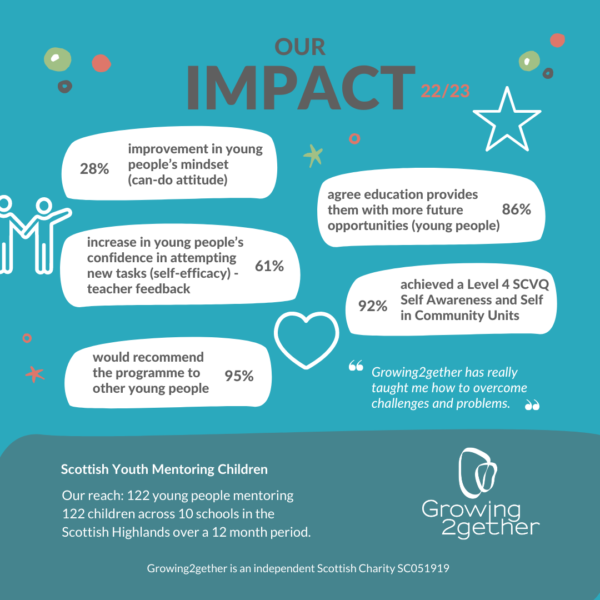 "Growing2gether has really taught me how to overcome challenges and problems". – Growing2gether participant
Between January 2022 – 2023 we have been helping young people who feel disconnected from education and society gain confidence and self-belief. Our programmes use positive psychology to build self-awareness, personal responsibility, and a sense of meaning. Growing2gether helps young people gain life skills, work experience, and a deeper understanding of themselves.
Growing2gether programmes work with young people facing disadvantage and children who require additional support, with young people becoming mentors to children. The programme covers skills such as re-engaging in school, communication, and goal-setting, and leads to an accredited Level 4 SCQF interpersonal skills qualification (Self in Community and Self Awareness Units).
We selected young people for the programme who were facing psychosocial, economic, or behavioural challenges, such as low self-esteem, truancy, and behavioural problems. Over 60% of the young people are also experiencing Adverse Childhood Experiences including parental abandonment (bereavement/divorce) and abuse. By supporting these young people, who often have low self-esteem, and limited progress in education, we aim to have a positive impact on their mental and physical health and help them achieve success.
You can read our full outcome report here
All names have been changed to protect confidentiality.
Thanks to our funders and schools for these fantastic results!
"He has really come out of his shell since working on the programme. He has established a new group of friends and is communicating with them. He looks included which is really nice to see. He seems more confident in himself. He gives eye contact and can hold a conversation with his head held high. I am so proud of him and think this course has helped him turn a huge corner." – Teacher
We collect quantitative and qualitative data from teachers and our programme participants. We achieve a major impact on the mental health of young people, giving them an equal chance to achieve their potential. Results also show a significant positive improvement on engagement and interest in learning, , making the effort to reach their potential and achieving the grades they need to further their education and self-efficacy.
Click here to read our Case Studies