For Young People by Young People
We teamed up with a group of previous G2G participants to gather some resources which can help you when you are struggling, or need some good advice.
All websites and apps reviewed here are free to use. Please remember to stay safe online, keep your personal information private, and never meet with anyone in person who you've only met online.
Taking care of your mental health is just as important as looking after every other part of your body.
Childline is for anyone under 19 in the UK and pretty much covers it all: helpline, chat, message boards and lots of things to check out. As one of our youth team puts it: "This is pretty much a sure bet for information and reassurance as its reputation would say."
YoungMinds is full of advice on mental health issues and offers support and empowerment for young people who are struggling. "There is so much information and it's all well explained, it's also not a dull site it's brightly coloured and easy to use."
Beat is the UK's leading charity addressing eating disorders, they offer advice whether you are suffering from an eating disorder or wish to help someone who is. "It's laid out so well and gives you lots of different kinds of information such as: how to help, what an eating disorder is, their help services etc"
Cuts, learning to cope is a publication compiled and written by a Growing2gether In the Community group. Please click on the link for personal stories, poetry and illustrations dealing with self-harm and the healing power of creativity and sharing. See also Calm Harm app below.
respectme is Scotland's anti-bullying service, working towards a respecting, just, equal and inclusive society, with easy-to-access information and informative videos. "Has very clear definitions of what is and isn't bullying between friends/relationships which is refreshing to see."
Apart from lots of information, Bullies Out also offer e-mentoring. "The site gives support for young people in general, and for older people such as parents/teachers etc, it also tells you how you can get help through school if you are in school."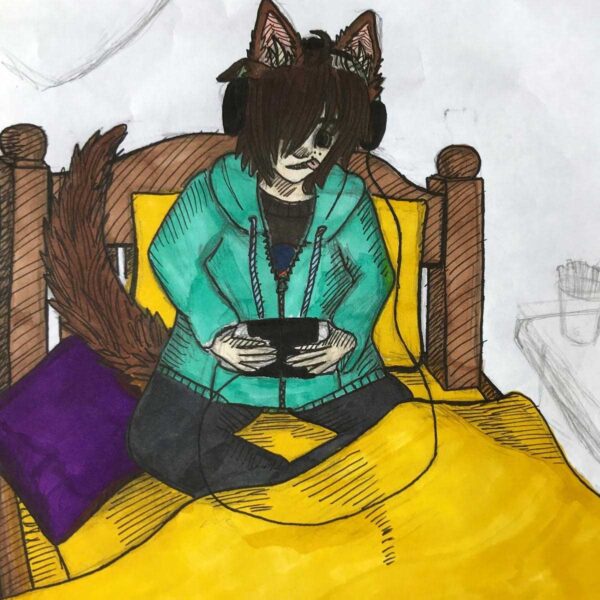 Artwork by Lara MacGillivray, 16
LGBT+ Youth Scotland works with LGBTQ+ people, ages 13-25, all across Scotland. "This website gave me such a massive understanding of LGBTQ+, they have support groups, live chat sessions, and many other different ways to make contact."
Switchboard is the UK's main helpline for LGBTQ+ people of all ages looking for support and advice. "Very simple and straight to the point."
Highland-based Wave is all about getting young people thinking and talking about their sexual health and relationships. Wave also has a service finder and freely distributes contraception. "So helpful! Gives you such detailed infomation on how to stay safe, being you, how to keep yourself from getting STIs etc."
Brook also supports young people by providing lots of information on sexual health and wellbeing. They also publish brave real-life stories to help you know you are not alone. "Good variety of topics covered, great detail and amount of information, everything is simplistic which makes for an easy user interface."
Frank gives honest advice about drugs and alcohol, they also have a confidential helpline and text service. "So full off important information that could help you or a friend in need with a drug problem or even someone who takes it now and then. It shows you the risks, how it feels etc."
Hope Again is a safe place where you can learn from other young people how to cope with grief, and feel less alone. "A good small site for any person going through bereavement, plenty of contact material."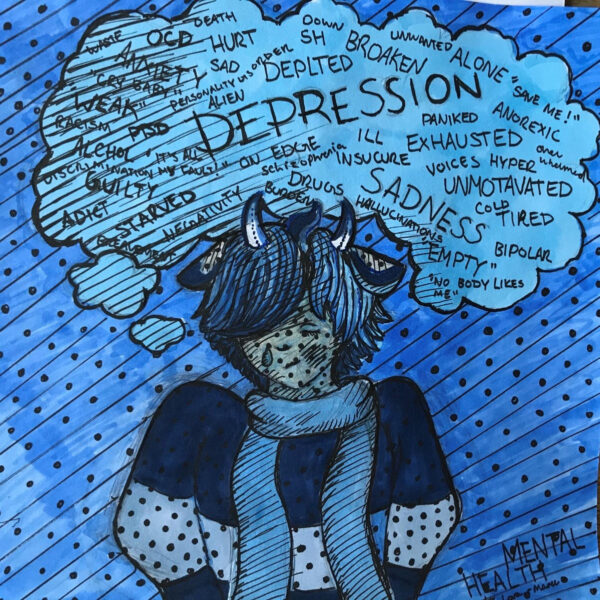 Artwork by Lara MacGillivray, 16
Childline's Calm Zone offers lots of activities and tools to help you feel calmer. "Has everything a young person would need if they're suffering from anxiety, depression or just going through a hard time."
Anna Freud has lots of strategies to help if you're feeling low or anxious. "Self care section is perfect for any young person needing suggestions on how to do self care, contact is available as well which is a plus."

Based on your specific kind of anxiety, MindShift offers tools to help you learn to relax and be mindful. "Love this app! You can learn why you're feeling the way you do and also do activities, male and female activities, checkups and much more!"

Calm Harm provides a variety of activities and creative ideas to fight the urge to self-harm. "A very nice way of distracting oneself and extremely accessible due to no use of e-mails and passwords."

Smiling Mind is all about mindfulness. "Lovely for those who want to practice meditation."

Clear Fear offers a range of ways to help young people manage anxiety. "Very much alike to Calm Harm but more aligned to fears. I recommend this app just as much."
Reach is a Scottish advice service for young people needing additional support for learning, They have a specific section for young carers. "Very good for young carers who need the right information."
hi-hope lists what's out there for young people leaving school in the Scottish Highlands. "Very useful for young people seeking employment and work experience. The active work experience search is perfect."
Citizens Advice Scotland helps you know your rights as a Scottish person. "Similar to Acas but more focused on the overall spectrum of discrimination and knowing the law. Just as essential."
Acas gives UK employees and employers free, impartial advice on workplace rights, rules and best practice. "An amazing website for any young person who feels like they're being mistreated at work... essential even if it is only an information bulletin."
Shelter Scotland provides housing advice for everyone, including advice on homelessness. "Really important information that teens should have available to them."